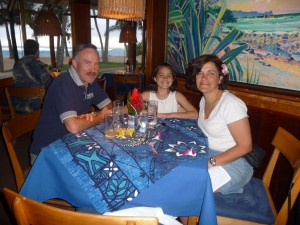 Who:
We are a family of three, who fell in love with Maui when visiting from Michigan.  In 2009, on our second visit to Maui, we started investigating buying a vacation property on the island, to enjoy when we can, and rent out when we are away.  As fate would have it, we ended up buying three condos, all in the Kihei Kai Nani resort and we set up our company to manage them – Maui Kihei Condo Rentals.  Our goal is to provide affordable Maui condo accommodations for visitors trying to maximize value for money while visiting Hawaii.  We are now retired and are spending our winter in Hawaii ourselves. Our condos have fully equipped kitchens making them ideal for couples or young families who prefer preparing their own breakfasts, lunches and occasional dinners. 
The lovely mild weather and friendly people of Maui make every day here seem magical. The snorkeling here is excellent and so is the dining. There are ample opportunities to enjoy pristine natural beauty, from standing on top of one of the highest mountains anywhere, to double rainbows, to turtles popping out their heads to nibble on growth on rocks by the shore, to the various forms of physical exercise and sports available anywhere (surfing, hiking, biking, wind-kiting, zip-lining). You will love Maui too.
When:
Our condos are available for rent year round (unless we are using them or they are already booked out).
Where:
Kihei Kai Nani is located in South Maui, which is the driest part of the island, getting between 4 – 10 inches of rain annually (typically all in December / January).  Due to its height, Haleakala mountain creates its own weather patterns, blocking clouds on the north end of the island, making it the lush wet section of the island, and South Maui, the sunny dry area.  See the map below for an exact location for Kihei Kai Nani (street address 2495 S. Kihei Rd., Kihei HI 96753).